GLENALLACHIE PRESENTS FIRST TRIO OF REGIONAL EXCLUSIVE WHISKIES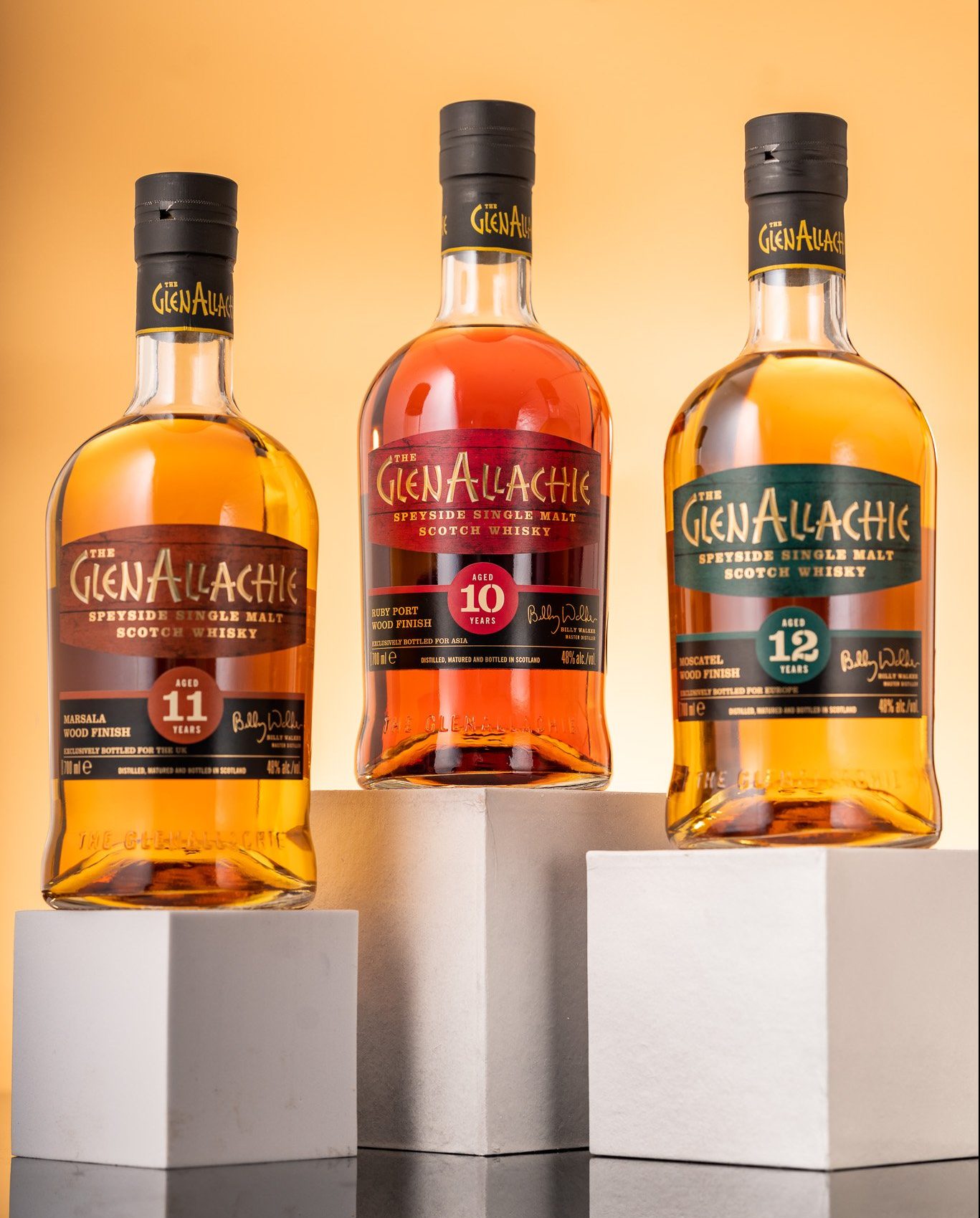 Independent Scotch whisky producer The GlenAllachie launches its first set of three Regional Exclusive single malt Scotch whiskies finished in unusual oak casks.
Led by universally respected industry veteran Billy Walker, the Speyside distillery has earned a reputation for boundary-pushing cask procurement and maturation policies.
The new trio of Regional Exclusive whiskies include an 11-year-old Marsala Wood Finish for the UK (RRSP £65.99), a 12-year-old Moscatel Wood Finish for Europe (RRSP £67.99), and a 10-year-old Ruby Port Wood Finish for Asia (RRSP £65.99).
Each expression underwent primary maturation in American oak ex-Bourbon barrels before being re-racked into casks hand-selected by renowned wood innovator Walker.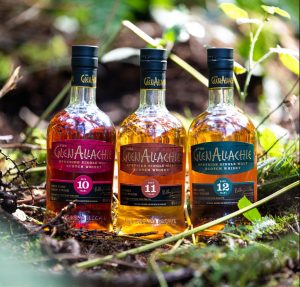 The 11-year-old UK exclusive enjoyed a secondary ageing period of approximately 42 months in barrels that previously held Marsala: a fortified wine produced on the Italian Island of Sicily. The resulting whisky is said to "exude elegant and well-rounded notes of toasted almonds, vanilla custard and apricot jam".
For Europe, the 12-year-old single malt spent over 42 additional months in wood that formerly aged the aromatic Portuguese dessert wine Moscatel. Delivering distinctive flavour characteristics, the unusual maturation journey has "imparted waves of grapefruit zest, honeysuckle, grape must and poached pear".
The Asia-exclusive 10-year-old was finished for around 36 months in hogsheads that hosted Ruby Port before being filled with The GlenAllachie. A more youthful, vibrant style of the Portuguese fortified wine, the Ruby Port wood has "added a distinguishing rose hue, as well as complex layers of juicy plums, cocoa powder, ginger and honey-glazed figs".
Aged within the distillery's 16 on-site warehouses, the whisky was subjected to regular monitoring until Walker deemed the perfect balance between spirit character and wood influence was achieved.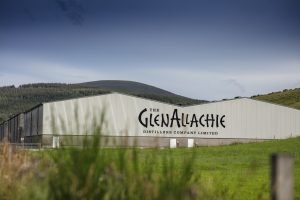 Once expertly blended, each single malt was bottled at 48% ABV, without added colouring and unchill filtered.
Remarking on the riveting new expressions, Walker comments:
"Maturation is such an imperative part of the whisky-making journey. These three very special single malts underwent an interesting ageing process in the finest wood. In sourcing our casks, we seek out niche, boutique producers that align with our business model: taking a more hands-on approach and prioritising quality.
"We're thrilled with the resulting whiskies. Each brings a unique identity to be enjoyed across its chosen region: the Marsala finish is smooth and creamy, the Moscatel finish is fragrant and fresh, and the Ruby Port finish is rich and fruity. Each one demonstrates the value offered by quality wood."
With RRSPs starting at £65.99, The GlenAllachie Regional Wood Finishes will become increasingly available across the UK and Europe from today, while the Asia Exclusive will reach shelves in the coming months.
You can find your nearest UK stockist or a list of our international distributors here.
TASTING NOTES:
The GlenAllachie 11-year-old Marsala Wood Finish, UK Exclusive – 48% ABV
Colour: Intensely Rich Bronze.
Nose: Bursting with heather honey, vanilla and stewed fruit, with notes of liquorice, butterscotch and roasted nuts.
Taste: Lashings of apricot, toffee and honeycomb, followed by hints of caramelised brown sugar, walnut and crème brûlée.
The GlenAllachie 12-year-old Moscatel Wood Finish, Europe Exclusive – 48% ABV
Colour: Golden Bronze.
Nose: Waves of orange blossom, heather honey and citrus, with notes of grapefruit, butterscotch and toffee.
Taste: Hints of dark chocolate, grape must and plum jam, followed by notes of orchard fruits, cinnamon and honeycomb, with ginger and butterscotch on the finish.
The GlenAllachie 10-year-old Ruby Port Wood Finish, Asia Exclusive – 48% ABV
Colour: Polished Rose Gold.
Nose: Notes of cocoa, plum jam and honeysuckle, with bursts of caramel, hazelnut and blackberry.
Taste: Waves of heather honey, candied nuts and wild berries, followed by ripe orchard fruits, baking spices and dark chocolate, with ginger and figs on the finish.
Previous
7th September 2023