THE GLENALLACHIE DISTILLERY DEBUTS PEATED WHISKY BRAND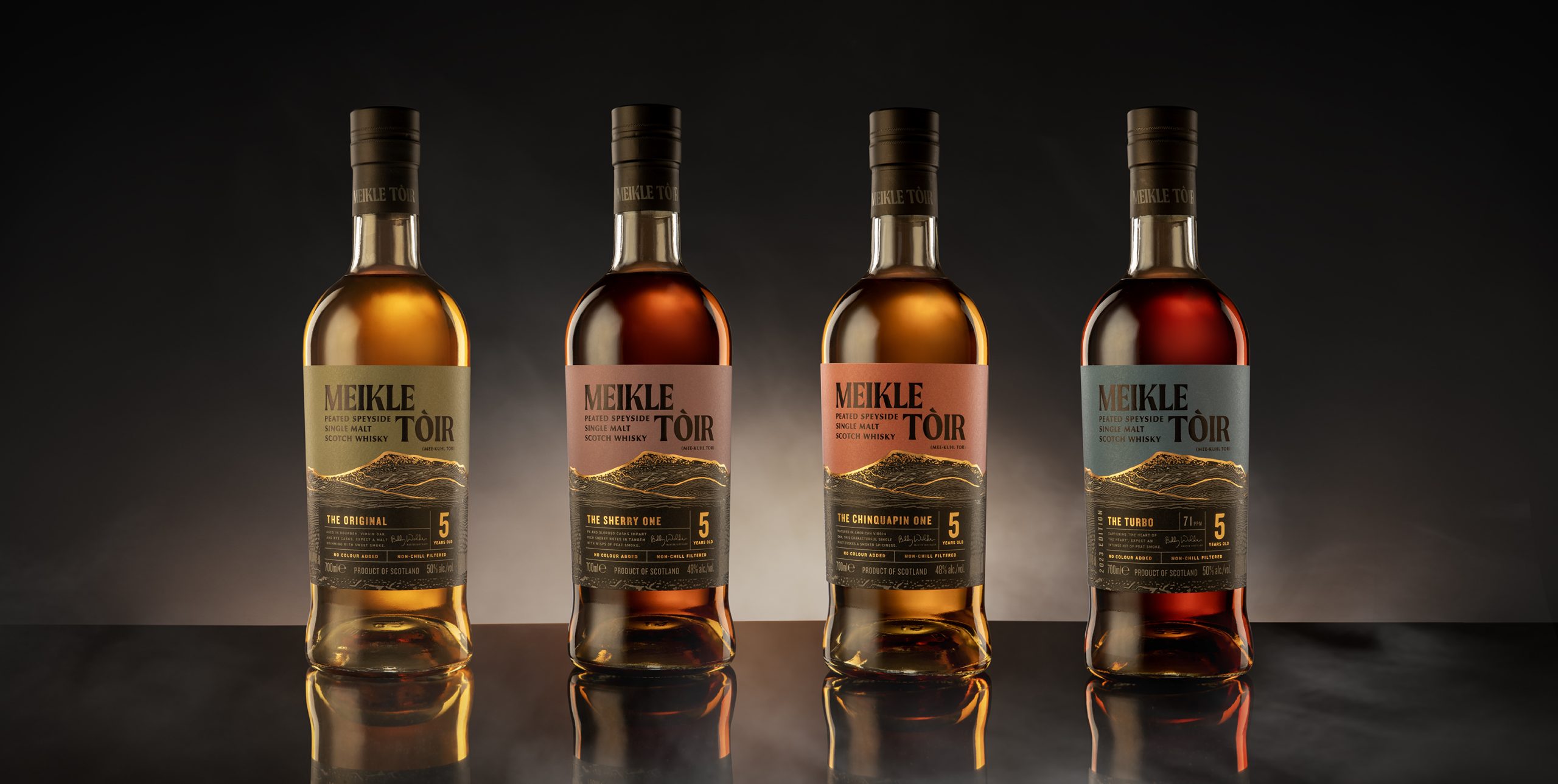 Independent Scotch whisky distillery The GlenAllachie reveals its new peated single malt Scotch whisky brand: Meikle Tòir (pronounced mee-kuhl tor).
Spearheaded by celebrated Master Distiller Billy Walker, The GlenAllachie Distillery, which surpassed £20 million in sales for the first time last year, has won countless notable awards, including the hotly contested World's Best Single Malt title (World Whiskies Awards, 2021).
The launch introduces Walker's first core releases to have been fully overseen by him since he took ownership of the distillery in 2017.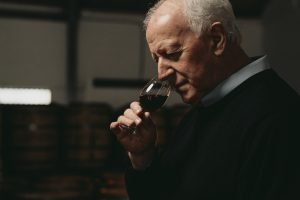 Meikle Tòir, which means 'big pursuit', represents Walker and his expert team's relentless seasonal peated campaign at The GlenAllachie, which began in 2018.
Using mainland peat from St. Fergus, the peated production runs for around six weeks per year, producing approximately 100,000 Litres of Alcohol annually.
The peated label's core range consists of The Original (50% ABV, UK RRSP £51), The Sherry One (48% ABV, UK RRSP £50) and The Chinquapin One (48% ABV, UK RRSP £50), as well as annual small-batch release, The Turbo 2023 Edition (50% ABV, UK RRSP £51). Each whisky carries a five-year age statement.
All Meikle Tòir expressions were subjected to a lengthy fermentation time of 160 hours – nearly triple the industry average – which adds a fruity, ester-rich character to the subsequent whisky.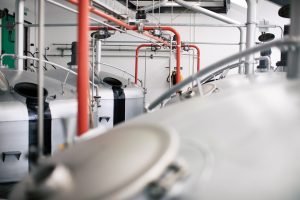 The Original 5-year-old was aged in expertly sourced first-fill Bourbon barrels, American virgin oak casks and Rye barrels, imparting "waves of stem ginger, sweet spice and oak-smoked sugar".
After an initial period in American oak, The Sherry One underwent additional maturation in quality Pedro Ximénez and Oloroso sherry puncheons. The result is a single malt with "impeccable balance between dark fruits, mocha, treacle and puffs of earthy peat smoke".
The Chinquapin One was first aged in American oak before being transferred into superior Chinquapin virgin oak barrels from the Northern Ozark region of Missouri, USA. Drinkers can anticipate "smoked spices, roasted nuts, campfire smoke and crème brûlée".
The Original, The Sherry One and The Chinquapin One all have a spirit PPM level of 35, with the mainland peat delivering a more sweet and oaky smoke style in comparison to the flavour contribution of a coastal peat.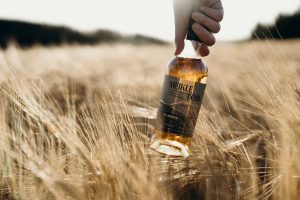 The Turbo, a super limited annual bottling, captures 'the heart of the heart' of the peated distillate: the spirit cut with the highest phenol content.
The 2023 Edition, a run of just 2,500 bottles, was left to slumber in three American virgin oak casks and five Oloroso Sherry hogsheads for five years. The resulting whisky is said to offer "a powerful punch of peat, amounting to a spirit PPM of 71, alongside notes of toasted honeycomb, burnt orange peel and worn leather".
All Meikle Tòir products are proudly bottled without added colouring and non-chill filtered for optimum drinking experience.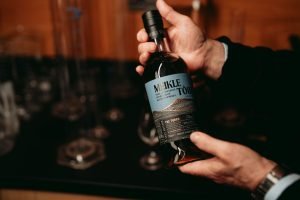 The eye-catching packaging features a hand-drawn illustration by prominent Scottish artist Iain McIntosh that depicts the rugged terrain surrounding the distillery, including the iconic peak of Ben Rinnes. The complementary "earthy" colour palette was chosen to hint at the smoky flavour profile.
Despite the additional costs associated, the brand exclusively works with UK-based packaging suppliers in order to reduce its impact on the environment.
The launch will be bolstered by a series of tastings across Scotland this week, both at barrel-top sampling events in retail stores and invite-only drinks evenings, concluding in Meikle Tòir's presence at The Whisky Exchange Show in London at the weekend.
Commenting on the new brand, Walker remarks:
"This incredibly exciting launch is a key milestone for us all at The GlenAllachie. Five years in the making, it represents the culmination of our endeavours since we took over the reins at the distillery. Our intention has always been to release a peated single malt, and this is no surprise to those who have followed our journey from the start.
"Every element of the production process was carefully considered to ensure our vision was met. It's not about accelerating the journey; it's about expanding the experience. One of the key decisions was to significantly extend the fermentation period to 160 hours, creating thick, ester-rich distillate. Another was to use mainland peat, which delivers a more oaky style of smoke. These choices, along with the use of quality oak casks, are all factors steering us in our pursuit of peated perfection".
Meikle Tòir will become increasingly available worldwide from today, with UK RRSPs starting at £50. For UK stockists and international importer information, click here.
TASTING NOTES
Meikle Tòir The Original, 5-year-old – 50% ABV
Nose: Baking spices, burnt honey and roasted coffee beans, leading to hazelnuts, smoked almonds and butterscotch.
Taste: Wisps of sweet peat, with rich chocolate and heather honey, followed by cinnamon, ginger and oak-smoked sugar.
Meikle Tòir The Sherry One, 5-year-old – 48% ABV
Nose: Cedarwood and cigar box, alongside butterscotch, mocha and orange peel, with hints of honey and plum jam.
Taste: Rich dark chocolate, smoked honey and mocha, followed by fig syrup, treacle and burnt sugar, with puffs of peat smoke on the finish.
Meikle Tòir The Chinquapin One, 5-year-old – 48% ABV
Nose: Aromas of smouldering oak embers, burnt liquorice and honeycomb, with wild heather, ginger, butterscotch and orange peel.
Taste: Dark chocolate, crème brûlée and toasted almonds, leading to cinnamon, brittle toffee, aniseed and lingering campfire smoke.
Meikle Tòir The Turbo, 5-year-old – 50% ABV
Nose: Manuka honey, worn leather and rich chocolate, with hints of toasted hazelnuts, dried sultanas and burnt orange peel.
Taste: Intense peat, heather honey and mocha, followed by smoked spices, roasted chestnuts and charred oak.