4 Things to Know About our New Virgin Oak Series
Our managing director and master distiller, Billy Walker, shares some insights about our latest releases…
1. Taking virgin oak to the next level
"With this new range, I wanted to explore and showcase the different range of flavours that can be created with different types of virgin oak.
Lots of people have matured or finished whisky in virgin oak before, but I wanted to take things further and explore what happens when you use different derivatives of virgin oak – for example with different terroir, different drying periods and different toasting and charring levels.
There's an understanding that good whisky matured in good wood makes something special. But I wanted to put good whisky in spectacular types of wood, wood with real history and unique characteristics.
I'm constantly looking for interesting types of wood and with this range we found three exceptional examples from France, Spain and the USA that have helped create three very different and special whiskies."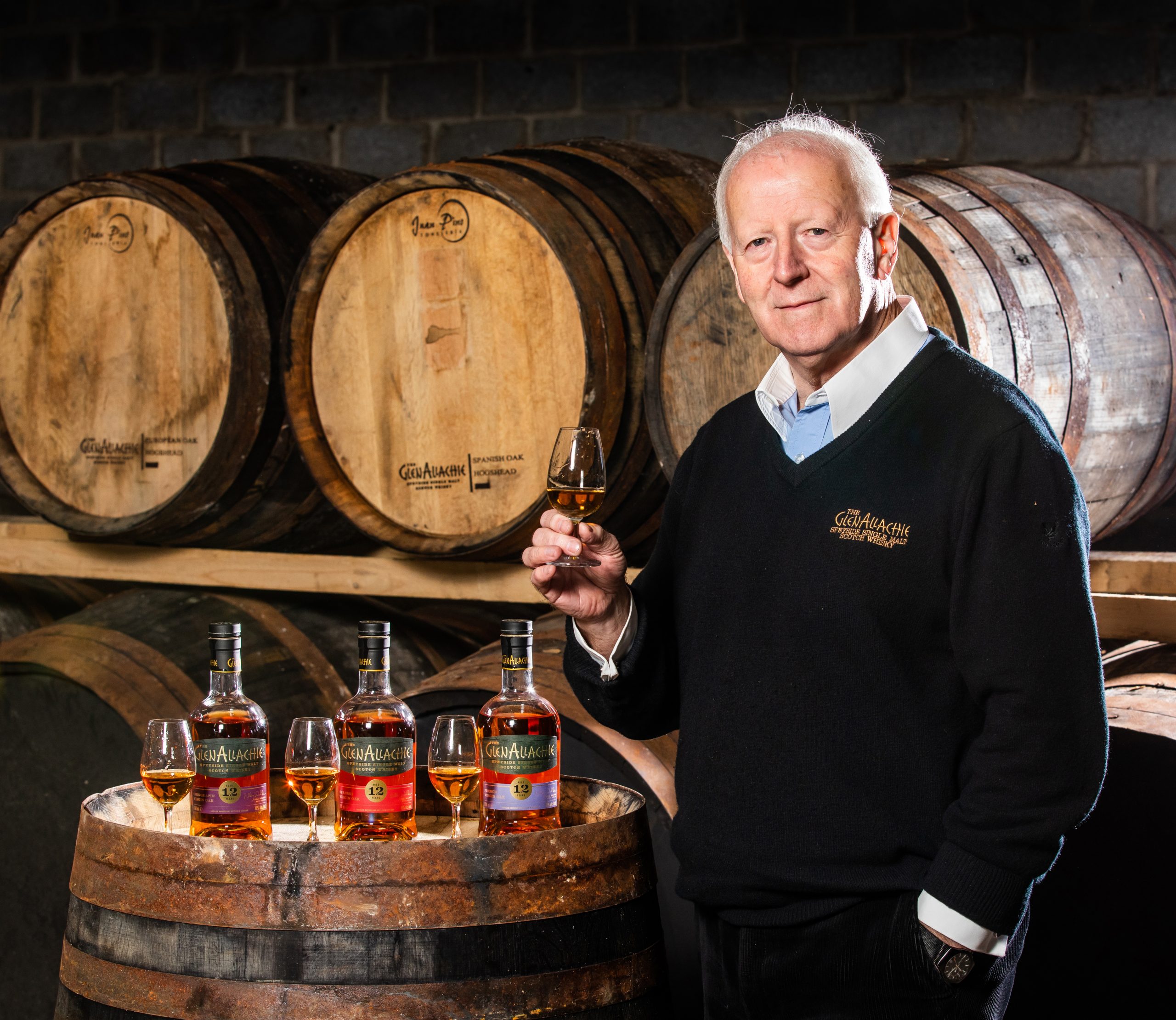 2. Only the best wood will do
"I've worked in the industry for coming up on 50 years and wood management is something I'm very passionate about. I place a lot of importance on the type and the quality of the casks we use. They have to be right at the top end, which isn't a cheap way to do things, but it delivers the best results.
Over the decades, I've built up very good and trusted contacts in the wood supply chain and with the help of various cooperages I'm constantly searching for interesting options.
When I hear that some interesting barrels have become available, the first thing I'll do is look at our cask inventory and think about what could be done. At that stage, I look at the history of the cask to ensure it will be compatible with the whisky.
When new casks arrive on site, I'll nose and check the integrity of the casks before they are filled. And then it's all about looking after the filled casks very carefully. With virgin oak in particular, we have to monitor the casks regularly as there can be a risk of 'overcooking' the flavours – over the years, I've learned to identify the sweet spot when the flavours are just perfect.''
3. Finding new flavours
"There's a really distinct flavour difference between each of these whiskies, especially between the Spanish and Chinquapin. In terms of flavour intensity from low to high, it goes from the Spanish to the French and then the Chinquapin.
A relative newcomer to whisky might want to start with the Spanish one, which has honey and orange zest on the nose and spicy, treacly flavours.
The French one has lovely sweet, earthy flavour with silky tannins, while the Chinquapin Virgin Oak Finish is significantly different. It's the star of the show for me – the wood has been dried for a much longer period which creates really interesting flavours of liquorice and even hints of rosehips."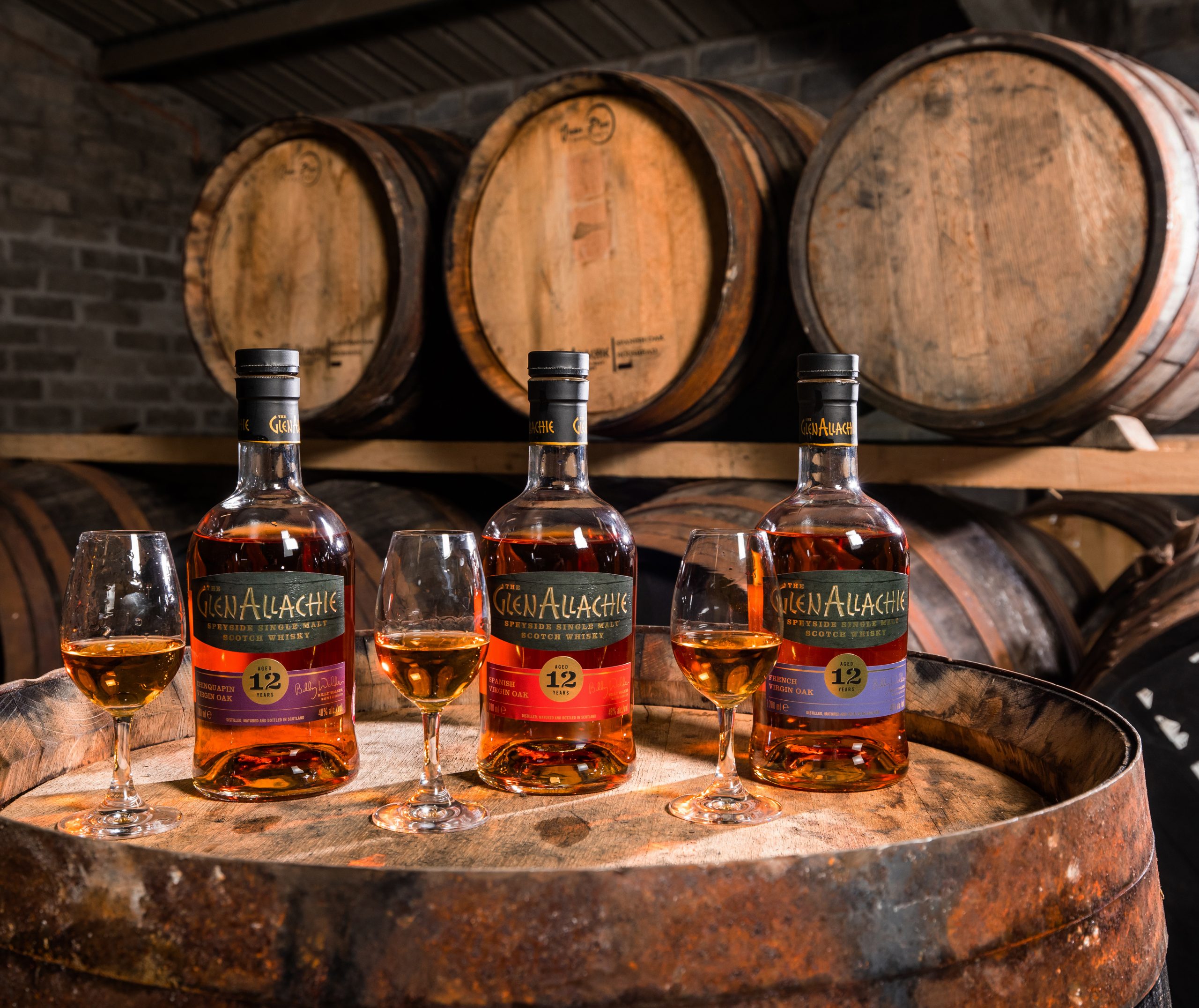 4. A taste of things to come
"The GlenAllachie core range is known for its dominant sherry wood character, but this new Virgin Oak Series is our latest step into bringing diversity to what we do and creating limited edition whiskies with unique and special flavour profiles.
We have lots of exciting projects in the pipeline – we've laid down GlenAllachie into some really interesting and spectacular ex-wine casks for example, I'm very excited about that. We've also been looking at wood from Bulgaria, Russia and Japan, but I can't share too much about them at this stage. For now, let's just say that over the next two or three years, we're going to be putting out some wonderful releases!"
The GlenAllachie Virgin Oak Series consists of the 12-year-old French Virgin Oak Finish, the 12-year-old Spanish Virgin Oak Finish, and the 12-year-old Chinquapin Virgin Oak Finish
Previous
16th October 2020