Why You Shouldn't Overlook Blended Malts
Blended malts are too often overlooked by whisky lovers in favour of single malts. But what makes a single malt superior? Many do not realise a blended malt is simply a combination of single malts from two or more whisky distilleries. Our Master Blender, Billy Walker acquired the MacNair's Lum Reek blended malt brand in 2017, and he is now on hand to tell us why blended malts can rival even the best single malts…
Tell us about your introduction to blended malts.
Billy: "Blended malts are an interesting concept, but definitely not a new one. As a blender you are constantly working to understand how single malts will embrace each other, so it was not anything new, but the category is relatively new. There are some well-known brands in the category such as Monkey Shoulder. Unfortunately, it is quite a difficult concept to explain to the consumer, but in terms of the quality there are some magic moments you can have with blended malts. As a blender, you have a lot of flavours at your disposal. The journey with MacNair's Lum Reek is just starting, we will see where it goes!"
What is involved in producing a blended malt?
Billy: "As a blender you are always blending malts; whether you are blending malts to be a standalone expression or to marry in with grain whisky to become blended Scotch. You get to understand how individual single malts interface with each other. From here you learn how they will marry together to produce a blended malt (or vatted malt, as they were previously called). Another consideration is the level of peated influence there should be, if any – should it be island peat or mainland peat?
"I was humbled to be awarded Best Scotch Blended Malt at the World Whisky Awards this year for our MacNair's Lum Reek 21-year-old – an expression I am very proud of"
Many say creating a Blended Malt is harder than a Single Malt – would you agree and why?
Billy: "I'm not sure if there is an obvious or straight answer to that. Each asks different types of questions. Single malts can be structured from birth meaning you are in control of the spirit. You can also personally decide the malted barley variety, type of yeast, length of fermentation, and then the wood pattern you want to use in the early stages of maturation. In our case we constantly move it from one style of wood to another. The key is to understand how your spirit is going to interface with the different cask types, and this comes with experience.
"In terms of blended malts, I am not saying it is easier or harder, but experience tells you what kind of malts will go well with each other and if they will flourish being married together. You are very much in control – perhaps not long-term control – but you can decide what style you are wanting to achieve and the how much of each type of influence is required to create said style. You can decide what level of phenols you want, if any, and which type of peat – island, a much drier, maritime type of experience, or mainland, a sweeter style of peat.
"So, in summary, they both present interesting challenges – I wouldn't say one is easier than the other"
What is it you personally like about blended malts?
Billy: "The interesting thing about blended malts is that you have a blank canvas to work with. You can access a number of different single malts with the characteristics you are looking for to create the desired outcome. In the case of MacNair's Lum Reek, we are fortunate that we have access to some very interesting single malts, including GlenAllachie which is a significant part of the whole experience. High quality component whiskies with a first-class wood management policy and the skills of an experienced blender can produce a blended malt to rival even the very best single malts"
Can you tell us a little about your cask management for MacNair's Lum Reek and how you ensure you always have the right proportions of each type of spirit?
Billy: "It ultimately comes down to planning properly. Most of these casks have started their life in conventional wood – whether it be hogsheads, butts or American barrels – and the history of the wood is important. It's also crucial to have a mixture of different cask types – we get the honeyed vanilla flavours from the ex-Bourbon barrels, the more earthy contribution from the butts, and the tannin notes from the hogsheads. This is the start of the journey. From there we decide at some point to take things in a different direction, carrying out some additional wood management by introducing a new type of wood. That structure has been an integral part of how we have, and will continue, to structure the MacNair's Lum Reek range."
Billy: "In terms of the peated malts in MacNair's Lum Reek, there is some Islay Peat, and surprisingly some Mainland peat from a distillery which would surprise even the most informed consumers who know a lot about malt whiskies and what various distilleries have released over the last five, ten fifteen, twenty years. I would prefer not to disclose the name of the distillery, but personally it was a surprise that The GlenAllachie Distillers Co could get access to this distillery and style. So, there are definitely one or two very big surprises in there!"
What would you say to someone who is apprehensive about trying a Blended Malt over a Single Malt?
Billy: "I really think there are no barriers to that. The chemist inside me says if you are very clever with formulating the blended malt and you have access to the broad spectrum of single malt Scotch whiskies that you want to include, then you can get a stunningly spectacular outcome."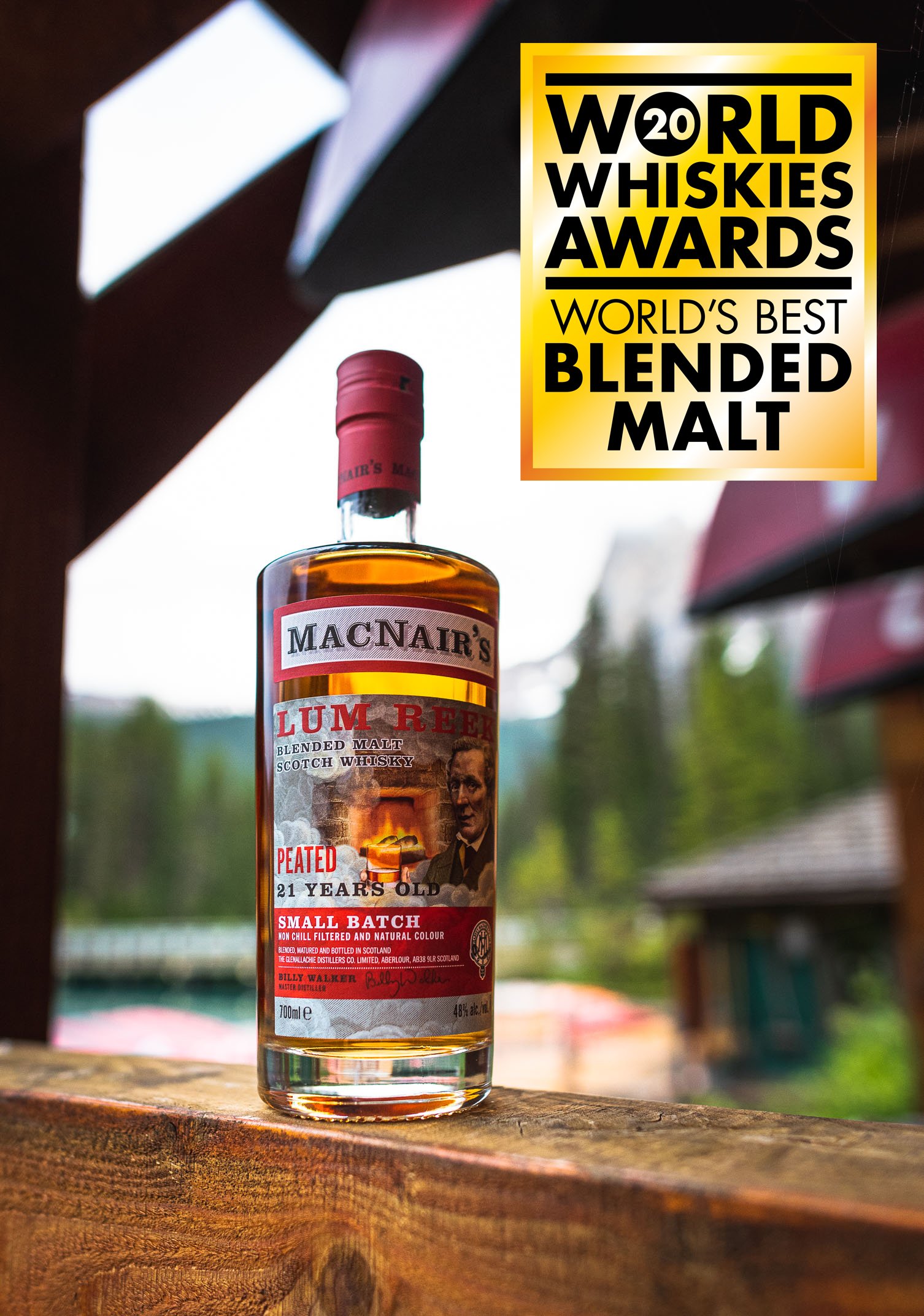 We also reached out to some highly respected whisky bloggers to find out what they love about blended malt Scotch whiskies…
Dr. Heinz Weinberger of Whisky-Connaisseur.de said:
"I'm a big fan of blended malts, because when marrying single malts from different distilleries one has the great opportunity to specifically enhance the aroma profile of individual whiskies, to impart another layer of flavour complexity making the whisky more compelling, aromatic and more pleasing to drink. Ideally, the whole – and this is the great and respectable art of the Master Blender – is then in sum more than its individual parts; or, to put it mathematically: 1+1=3!"
Tobias Piwek from Barelymania told us:
"I'm a big fan of blended malts. One major reason for this is their versatility. Blending allows the whisky makers to shake off all shackles and go wherever they please. Be it balance or edginess, intensity or complexity, smoothness or vehemence, unity or contrast – via blending one can create just about any style, profile or orientation there is! Another point: Blended malts are very underestimated. Apparently, many people still regard them inferior to single malts and single casks. Personally, I don't agree with that at all! I am very certain that a top-quality blended malt can hold its ground amidst even the best of single malts and single casks! So go, blended malt, go! You might be the underdog – but so was Rocky when he first faced Apollo Creed!"
Vin Perry-French who vlogs on the No Nonsense Whisky YouTube Channel commented:
"Often overlooked by today's connoisseur, the blended malt presents a great opportunity to explore flavour profiles that aren't possible in a single malt. But I'm happy they overlook it, more for me!"
Thijs Klaverstijn who writes the Words of Whisky blog said:
'What I love about blended malts is that they allow a master blender to really tap into their creativity—it often leads to new and sometimes unexpected layers of complexity.'
Ruben Luyten from WhiskyNotes.be believes:
"Just like a painter who explores new colours and moods in paintings, a blended malt is like a painting in whisky, combining different malt profiles to get something unique."
Neill Murphy who writes on WhiskyReviews.net told us:
"Blended malts can offer all the characteristics of a single malt – sometimes more – and best of all, they are often positioned at a more affordable price point. Quality whisky doesn't have to cost a fortune"
To find out more about our MacNair's Lum Reek Blended Malt Range, click here.
Previous
27th November 2020