GlenAllachie Revives MacNair's Blended Malt Scotch Whisky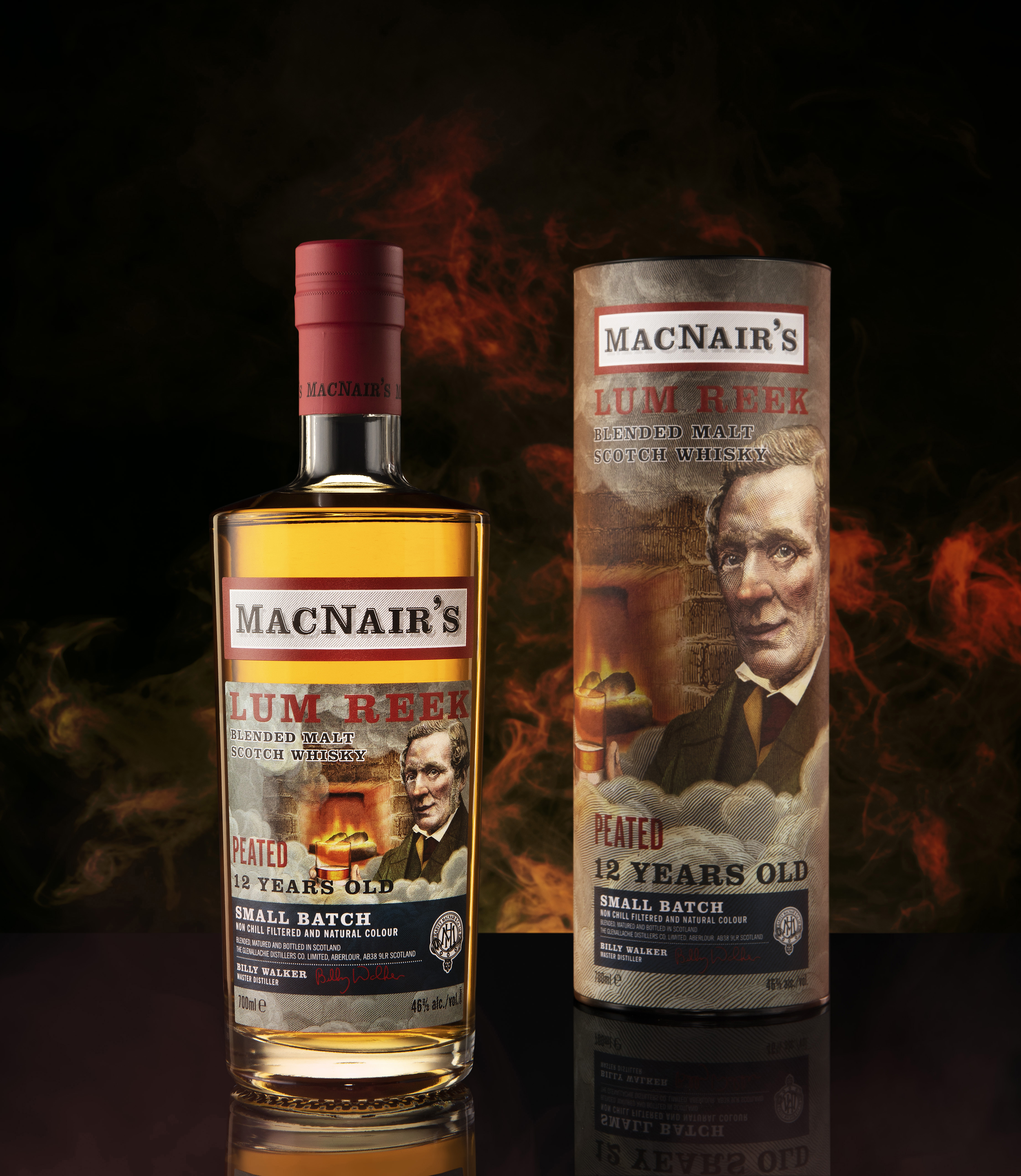 Billy Walker's GlenAllachie Distillers Company toasts a prosperous first year with launch of first peated whisky range.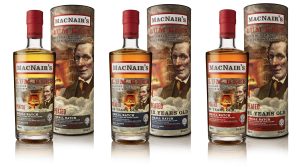 The GlenAllachie Distillers Company is toasting its first anniversary with the launch of MacNair's Lum Reek, a range of peated Blended Malt Scotch whiskies that revive a traditional brand with contemporary twist.
The MacNair's Lum Reek range, which comprises a non-age statement, 12-year-old and 21-year-old, is a combination of peated Islay and peated Speyside malt blended together with older GlenAllachie. It has been matured at The GlenAllachie Distillery near Aberlour in Speyside and vatted by Master Distiller Billy Walker, one of the most respected blenders in Scotland. All are bottled at natural colour, non-chill filtered and 46% ABV and above.
The release celebrates a busy and successful first 12 months at GlenAllachie for Walker and his business partners Graham Stevenson and Trisha Savage who bought the distillery in October 2017, in a deal which also included the MacNair's and White Heather blends.
In February, Walker unveiled his first release, a batch of six single cask bottlings. This was followed by a special bottling for the Speyside Whisky Festival in May; and the launch in July of the flagship GlenAllachie single malt range.
GlenAllachie is now distributed to more than 30 markets worldwide and during its first year a total of 611,509 standard litres of alcohol have been produced and 87,944 peated litres of alcohol. The distillery has also added two new warehouses and increased its staff from 7 to 17 employees.
The new Lum Reek peated whiskies are inspired by the famous Scottish toast 'lang may yer lum reek', which literally means 'long may your chimney smoke' and is used to wish someone a long life and prosperity. The whiskies are also inspired by the creative spirit of Glaswegian expert distiller and blender, Harvey MacNair.
The Victorian distiller is said to have stumbled serendipitously across a love for smoky whisky after drinking a dram in an old stone bothy near GlenAllachie. Due to a blocked chimney (or lum) the room filled with smoke, with MacNair reporting it had "a transformative effect on my dram".
All three whiskies in the range reflect Walker's vast experience as a blender, his creative skills and his expert knowledge of wood management.
Walker said: "It's been an amazing year and journey so far and we wanted to mark the anniversary with something truly special. With the MacNair's range, we've re-created the peated whiskies of 100 years ago for the modern-day palette.
"I'm a passionate believer in the qualities of Blended Malt Scotch whisky; if you have high quality component whiskies, as we fortunately do, and combine them with a first-class wood management policy and a creative spirit, you can produce a dram to rival the very best single malts."
MacNair's Lum Reek Peated:
This is the perfect introduction into the Lum Reek range – a peated blended malt Scotch whisky, Master Distiller Billy Walker has combined whiskies matured in first fill Bourbon, Oloroso, Virgin Oak and Red Wine casks to produce this rich golden spirit. Bottled at 46% ABV, non chill filtered and natural colour,  the spirit was first matured at GlenAllachie distillery before the final cask vatting was blended by Billy.
Colour: Rich Gold.
Nose: Crisp peat notes with barley sugar and dark chocolate.
Taste: Full bodied peat reek, vanilla, barley sugar and tannins, followed by bog myrtle and sweet spices.
MacNair's Lum Reek 12 Years Old:
Introducing the first age range statement from MacNair's, the Lum Reek 12 years old, bottled at 46% ABV, reflects Billy Walker's vast experience as a blender, his creative skills and his expert knowledge of wood management. A combination of whiskies from first fill Bourbon, Red Wine and Pedro Ximenez casks were blended together to produce this smoky malt.
Colour: Copper Bronze.
Nose: Sweet peat reek combining with butterscotch and mocha.
Taste: Lashings of rich peat reek with mature heather notes, bog myrtle, butterscotch, toffee and sweet spices.
MacNair's Lum Reek 21 Years Old:
A blend of some of the finest Islay and Speyside peated malts combined with richer, older GlenAllachie, the Lum Reek 21 years old was aged in Oloroso, Virgin Oak and Red Wine casks. Non chill filtered, natural colour and bottled at 48% ABV, Billy Walker has recreated the peated whiskies of 100 years ago for the modern-day palette.
Colour: Butterscotch.
Nose: Aristocratic peat smoke with dark chocolate and fudge.
Taste: Tobacco, leather, cedar wood and waves of peat reek with oodles of cocoa, vanilla, honey and spices.
Further information
Follow MacNair's Official Facebook Page
Previous
21st November 2018