50th Anniversary Trilogy II: Cask Innovation
The second release of our Billy Walker 50th Anniversary Series was unveiled last month as a 16-year-old Mizunara Virgin Oak Cask Finish; a first for not only GlenAllachie, but Billy himself. Delving into the extraordinary world of wood, we explore not only our innovative cask management philosophy, but the influence of Virgin Oak on our spirit…
Throughout his half-century in the industry, Billy has fostered a keen interest in the art of wood management. As whisky gets older, the interaction with the wood changes and begins to extract different flavour components from the wood, meaning that a watchful eye is key. Our annual wood budget of over £2m allows us the opportunity to elevate our whisky by introducing the spirit to all kinds of wood experiences. Each cask contributes to the whisky at different rates, so you have a different flavour matrix to work with. Billy is strategic in selecting which cask to have a certain whisky in at a particular stage in its maturation journey. It's key to understand the behaviour of the whisky and when it will no longer benefit from its current cask; something which Billy certainly has down pat.
"The key is to capture the sweet point; the length it should be in a certain style of cask to deliver the quality we're looking for. You need to understand how the whisky interacts and behaves with certain kinds of wood."
This extensive cask budget has given Billy the freedom to source unique and innovative casks, particularly from premium, niche producers. From virgin oak casks to French fine wine barriques or an antique Sherry butt dating back to the middle of the 20th century, our experimental and boundary-pushing philosophy can be seen across our limited-edition releases. Although known for his Sherry-bombs, Billy's flair for creativity has led to a host of interesting expressions crafted from Scottish Oak, Madeira and ex-Peated Bourbon Barrels to name just a few.
The latest release in our series; The Present Edition truly embodies this experimental spirit and Billy's passion for analysing how the whisky interfaces with interesting wood types. Representing the innovative cask maturation philosophy that Billy is currently implementing at our distillery, our Mizunara expression is certainly something special. Virgin oak in particular is still not commonly used in whisky maturation as it requires the implementation of a rigorous sampling programme – luckily, this isn't a problem for our hands-on Master Blender. As virgin oak casks have not previously been used to mature any spirit or wine, the wood imparts a great deal of character and so runs the risk of dominating the spirit, creating an overly 'oaked' whisky. To bring virgin oak casks 'to life', the wood is always toasted or charred – the level to which depends on the flavour you are trying to achieve.
A particularly unusual and rare wood species is Mizunara, a native Japanese oak hailing from Hokkaido. This virgin oak is seldom used for whisky maturation due to the multitude of problems that it poses to production. Literally translated to mean 'water oak', Mizunara must be dried for significantly longer than its wood counterparts due to its high moisture content and its porous nature mean that these casks are inclined to leak. A notoriously temperamental wood type, Mizunara also has a tendency to twist as it grows, which creates issues for stave production. This means that each tree must grow to be around 200 years old before being felled; twice the age of most oak used for casks. Although it presents difficulties, this desirable oak lends to the spirit sinking deeper into the wood, imparting complex notes of sandalwood and sweet cinnamon to deliver a truly unique drinking experience.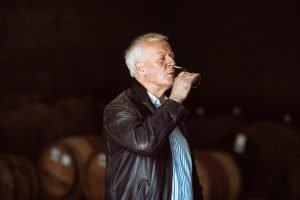 Having enjoyed initial maturation in Spanish Sherry casks before finishing in rare Mizunara oak, The Present Edition truly showcases the blending prowess of Billy Walker and his passion for reimagining 'old' classics through the use of innovative twists.
We sat down with Billy to gain a deeper understanding of how his passion for these seemingly 'difficult' casks and get some teasers for what's to come…
Q. What are the challenges in working with virgin oak, particularly those cask types which are underutilised in the whisky industry?
Billy: When you are working with a new virgin oak genus, the challenge is to understand the structure of the wood including pore size, the anticipated flavour characteristics of the particular genus, and the level of toasting and charring required to deliver the desired flavour components. The next challenge is to religiously follow the aging process, sampling throughout, to fully understand how the whisky is interacting with the wood and then capture the maturation development at the 'sweet spot'.
In the case of Mizunara virgin oak, we went with 36 months natural air drying, followed by a medium level of toast and char. Mizunara delivers a rich experience with qualities of vanilla toffee, treacle, orange peel, cinnamon and strong hints of dark chocolate. It is really important not to allow the Mizunara influence to dominate the organoleptic experience, so timing is everything.
Q. What is the most interesting thing you've learnt in working with virgin oak?
Billy: Working with virgin oak of various genus has opened up access to exciting flavours. The vast array of different characteristics that each genus can contribute is so intriguing.
Q. Have you got your eye on any exciting virgin oaks to experiment with in the future?
Billy: To date, we have worked with the following virgin oak styles; Appalachian, Chinquapin, Ozark, French, Spanish, Scottish and Japanese Mizunara. The opportunities are endless with virgin oak experimentation, and this is a real area of passion and excitement for me. We are exploring oaks from other regions in Europe and beyond… so watch this space!
Be sure not to miss the conclusion of our 50th Anniversary trilogy, The Future Edition, coming soon…
Previous
21st September 2022