THE CASKS CONTINUE TO ROLL OUT OF THE GLENALLACHIE DISTILLERY WITH LATEST BATCH OF SPECIAL RELEASES
Batch 4 of its 10-year-old Cask Strength and a third instalment of single casks follow hot on the heels of Virgin Oak series released earlier in October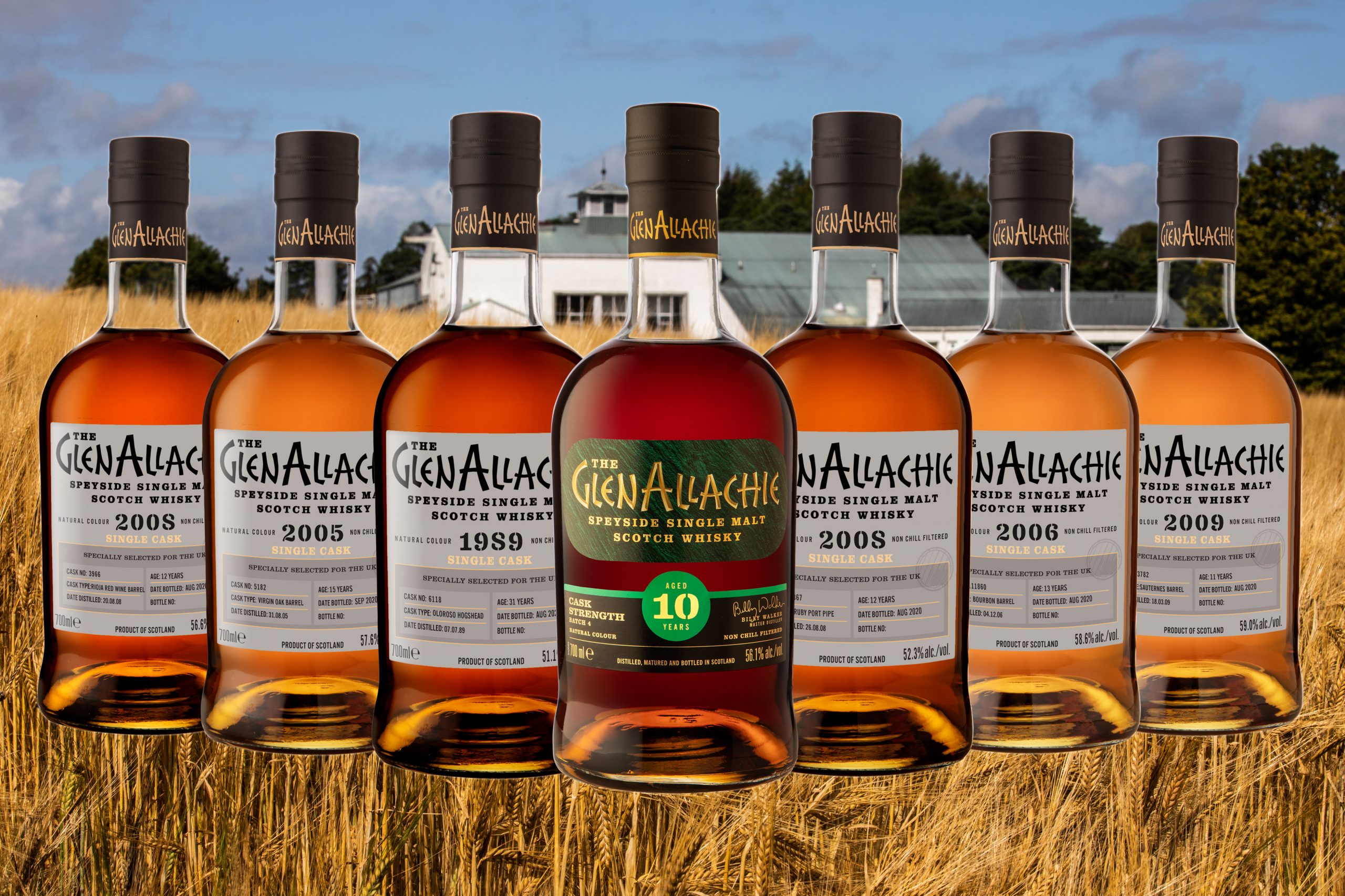 Hot on the heels of its recent Virgin Oak Series, The GlenAllachie Distillery is launching Batch 4 of its cask strength 10-year-old single malt, and releasing a third instalment of single cask bottlings, including a 31-year-old whisky (£530 RRP) matured in an Oloroso hogshead, exclusively for the UK.
The GlenAllachie 10 Years Old Cask Strength, Batch 4, follows in the footsteps of its predecessor Batch 3, which was awarded Best Scotch Speyside Single Malt at the World Whiskies Awards 2020.
Batch 4 (£58.99 RRP), which is a limited release of 2,600 cases worldwide, is a combination of Pedro Ximénez and Oloroso sherry puncheons along with a small quantity of virgin oak casks. Bottled at 56.1%, natural colour and non-chill filtered, it delivers a perfect balance of fruit, dark chocolate and spice with underlying classic GlenAllachie sweet honey notes.
The third instalment of single casks consists of six cask strength single malts, all specially selected by Master Distiller Billy Walker from among the 50,000 casks in the distillery's warehouses in Aberlour.
The batch of single casks consists of a 31-year-old Oloroso hogshead (£530 RRP), a 15-year-old Virgin Oak (£106 RRP), a 13-year-old First Fill Bourbon Barrel (£96 RRP), a 12-year-old Ruby Port Pipe (£90 RRP), a 12-year-old Rioja Barrel (£90 RRP), and an 11-year-old Sauternes Barrel (£86 RRP). All the bottles are hand-numbered, and offered at cask strength, natural colour and are non-chill filtered.
Each single cask expression showcases Walker's renowned expertise in wood management, steering the unique interaction of wood, spirit and subsequent flavour development, which has been gained during his extensive career in the whisky industry.
Commenting on the new releases, Walker said: "There's something magical about bottling whisky straight from the cask – without any water or colouring being added, this is whisky in its purest form. Batch 3 of our cask strength 10-year-old has set the bar high, but we're excited to share this new bottling which has a perfect balance of fruit, dark chocolate and spice with the underlying classic sweet honey notes of the GlenAllachie.
"With our new instalment of single casks, we're demonstrating the unique interaction of our spirit with different types of wood and how that creates incredible flavours. For example, the 31-year-old has intense flavours of dark chocolate, orange zest, grapefruit and ginger thanks to the greater interaction between spirit and wood provided by the slightly smaller Oloroso hogshead."
This passion for exploring different barrels and types of wood was also reflected in the recent GlenAllachie Virgin Oak Series, a new limited edition range of Speyside single malt whiskies which have undergone secondary maturation in specially selected casks of different oak species from specific regions around the world.
Released in early October, on the back of winning a 50th award in three years, The GlenAllachie Virgin Oak Series consists of three limited edition 12-year-old single malt whiskies; the 12-year-old French Virgin Oak Finish, the 12-year-old Spanish Virgin Oak Finish, and the 12-year-old Chinquapin Virgin Oak Finish.
Previous
26th October 2020