MEET THE TEAM – LINDSAY CORMIE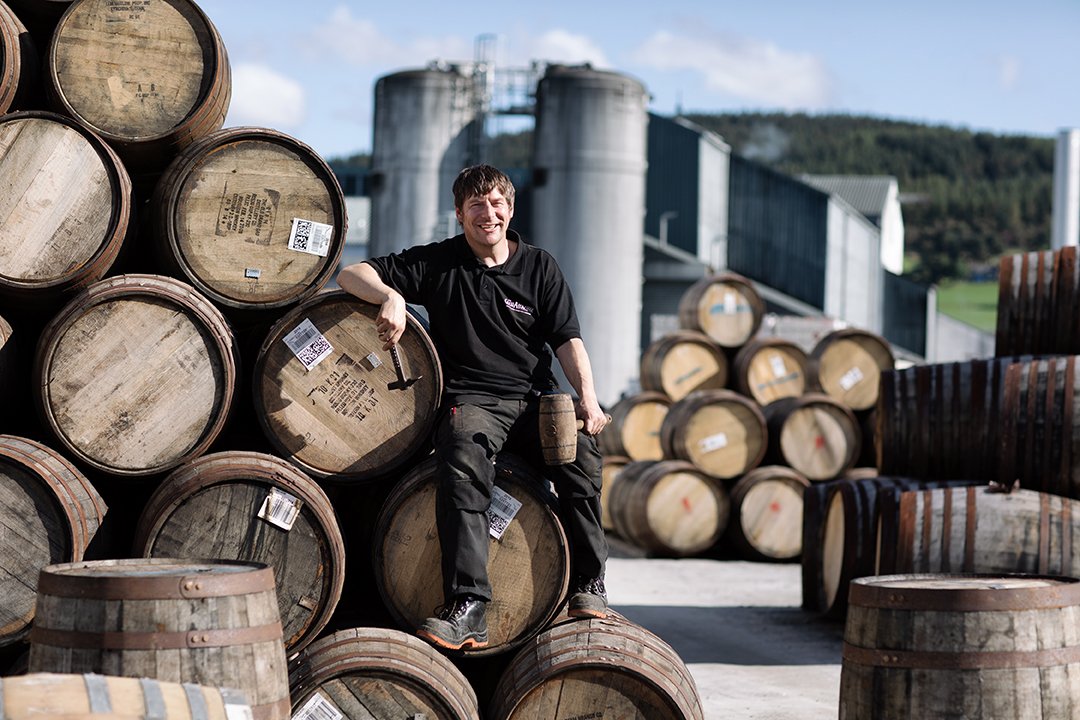 With 16 on-site warehouses storing over 50,000 casks of liquid gold, Warehouse Manager at our distillery certainly isn't a job for the faint-hearted. However, when our Master Blender Billy Walker and his team took over The GlenAllachie Distillery in 2017, there was only one man for it… meet Lindsay Cormie. Having now worked with Billy for over 17 years, Lindsay is an integral part of the GlenAllachie team. So you could get to know him better, we sat down to ask him some questions about life at our distillery…
Q. Can you give us an overview of your career so far? And what is it like working with Billy Walker?
A. I started working for Billy Walker in 2006, firstly at Benriach followed by Glendronach and Glenglassaugh. When the distilleries were sold to Brown-Forman in 2016, I continued to work for them until November 2017 when Billy offered me the chance to join him at GlenAllachie and I've been here to annoy him ever since. Working for Billy, although hard work, is enjoyable work – there is always something exciting and experimental happening. He is always just a phone call away, which also has its downside as I can't hide from him should he try to wind me up, which he seems to enjoy.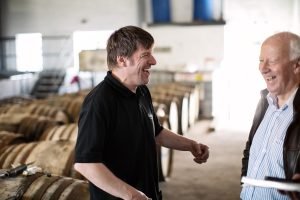 Q. What does an average day/week look like for you?
A. It consists of a bit of all types of different warehouse work, as well as lots of planning and paperwork. We work on sampling, re-gauging casks, filling new-make, re-racking work, bottling work, moving casks in and out… (the list goes on!).
Q. What do you enjoy the most and what are some of the most challenging things about your job?
A. I enjoy the variety and the fact that my role allows me to work with the wonderful warehouse team doing the physical work, but also the office side of things. I also enjoy seeing the whisky aficionados who come from far and wide, as well as local. You get to meet the same ones every year. As well as being extremely knowledgeable, they really appreciate the whisky…they can teach us a lot. The planning can be quite challenging in terms of making sure casks come into or leave the distillery at the correct time. Most jobs require various mature casks to be ready at the same time as empty casks from mainland Europe arrive, so that the empty casks are filled at their freshest.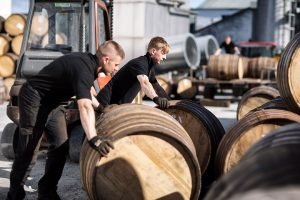 Q. What has been the most challenging cask type to work with in your experience and why?
A. The most challenging type of cask varies for different reasons. A port pipe might hold very close to 700 litres and are quite long and hard to push – you can hear them creaking under their own weight. They can leak which is annoying, as the flavours, nose and especially colour produced by port casks are truly beautiful. Mizunara casks again can cause major problems in terms of leakage. The opposite end of the scale to a pipe, you'll find octave, firkin and quarter casks. The problems with these is that they are so small, that you have to fill many of them and bending down to handle/push them certainly gives you a sore back at the end of a day.
Q. How important do you believe maturation is in the taste and quality of the final liquid?
A. I believe maturation is undoubtedly the most important factor in the final character of the whisky. I would say about 75% of the magic is due to cask influence and environment. The slow introduction of oxygen into the contents of the cask from the surrounding environment, coupled with well-sourced casks which are filled as soon as they arrive are all big factors. Billy likes to spend a lot of money on wood and you get what you pay for, so no expense is spared.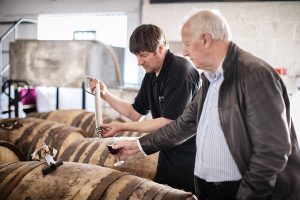 Q. Do you think of maturation as a science or an art?
A. I know this is sitting on the fence a little, but I see maturation as both. Billy is a scientist at heart, and is constantly monitoring things, but no two casks are the same. Even if the same spirit is filled into the same cask type and left to mature next to each other in the same warehouse, they will never be exactly alike. This is where the art comes in – surprises are always just around the corner or in the next warehouse/stow.
Q. Have you got any interesting stories you can share with us?
A. I do like to hear the older and retired whisky workers telling me the stories about 'dramming'. In days gone by, the distillery workers were 'drammed' meaning that they got a two-finger measure of whisky three times a day – once in the morning, lunch time and at the end of the day. This measure was given from the whisky jar, which held about 1500ml of new-make spirit sitting at around 70% ABV. One day a gentleman had come to gain some experience working at the distillery and during the morning meeting, was told it was his honour to have the first dram. Unfortunately, the other workers forgot to tell him about the two-finger measure so he took the jar and started to drink. Before reaching half-way down he stopped and apologised for not being able to finish it. The other workers were amazed, and needless to say, the gentleman would have needed to go for a wee sleep so he was ready for work and maybe get his lunch time dram. To be clear, 'dramming' doesn't happen in our warehouses anymore!
Q. What are your favourite whiskies at the moment?
A. This is a difficult question to answer, so I often answer this with another question – what is your favourite song? It all depends on your mood. Sometimes when drinking a Sherried whisky, after a while I like to change to maybe a virgin oak or a Bourbon. Depending on the time of year, some people might also prefer a peated whisky – especially on the colder nights – or possibly in the summer a Madeira finish… a nice breakfast whisky.
Keep your eyes peeled for our next Meet the Team blog… let us know on socials who you'd like to see next!