GOING AGAINST THE GRAIN WITH GRAPE
Photo Credit: Ian Robinson @PoshScotch
Following the recent launch of our innovative 2012 Vintage Cuvée Wine Cask Finish Single Malt, we wanted to delve deeper into the world of wine. Disputing the common advice given to "never mix grape and grain", we will explore the influence that fine wine barriques have upon our spirit and the subsequent flavour extension that is derived from ultimately blending them together.
First things first… what actually is a cuvée? A French term which literally translates to 'tank' in English, cuvée can mean a few different things depending on the wine being produced. In terms of champagne or other sparkling wine production, a cuvée could mean a batch made from the very first press of the grapes – an indication of superior quality. However, in the wine sphere the term is synonymous with a blend. Although there is no legal definition, a cuvée often refers to a wine which is made with two or more grape varieties. The ultimate goal is to create an expression in which the sum is greater than its individual components, one which our Master Blender Billy Walker stands by. We have adopted this French term for our latest release, which is a harmonious marriage of spirit finished in four different types of premium red wine casks.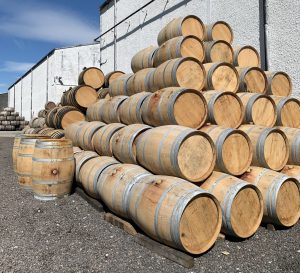 The phenomenon of using wine barriques to finish whisky isn't necessarily a new one, however often appeals to a smaller audience of whisky drinkers in comparison to the dominance of fortified wines, such as Sherry and Port. Although there are billions of bottles of wine produced each year, the barriques in which they are aged in are significantly smaller than a 500L Sherry Butt, meaning that wine cask finishes are often released as limited-editions, in smaller quantities.
Maturing whisky in wine casks is still an experimental business, and so one that, unsurprisingly, interests our own cask connoisseur, Billy. Thanks to his plethora of connections with producers built from over 50 years in the industry, our Master Blender has the ability to source the finest casks from world-renowned wineries. Our Cuvée release is comprised of red wine barriques sourced from Italy and France. Amongst these, are casks obtained from two of the five Premier Cru Classé Chateaux in Bordeaux – a prestigious classification awarded to vineyards with exceptional terroirs, who produce wine of a superior quality.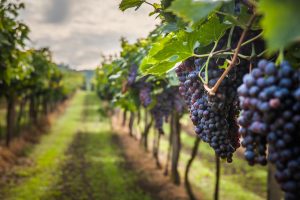 The same way in that not all musical instruments can play together in harmony, not every cask type will complement a distillery's spirit. The GlenAllachie house-style, although characterised by its honeyed charm, is ultimately robust and complex. If you want to get technical, this is thanks to the descended angle of the lyne arms of our stills, which encourages heavier spirits to fall into the condenser, resulting in a more viscous, fruit-driven new make spirit. These characteristics work in tandem with the rich, fruit-forward flavours delivered by the finest red wine casks used in our Cuvée.
The smaller size of these first-fill barriques also means that they offer more wood contact, imparting a deep, intense injection of both flavour and colour. The greater interaction between wood and spirit is why barriques are often used for a finishing period, rather than full maturation. Billy often suggests that each cask has its own personality and so, each must be monitored closely to determine the optimum time the spirit within should spend. After maturation in American ex-Bourbon Oak, our whisky enjoyed 20 months of further ageing in these European wine casks before being skilfully blended together by Billy.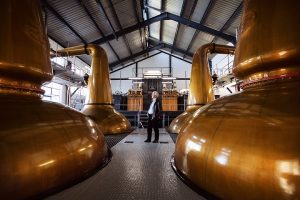 The maiden batch of our Wine Cask Finish series was a collection of individual wine finishes, so why did we blend several together for this release? Always the innovator, it was a perfect opportunity for Billy to marry two of his passions: whisky and wine. Thanks to his hands-on approach and rigorous sampling programme, it became evident that the flavours developing in each of these barriques would ultimately work well together, a rather wonderful surprise.
The result is a single malt which delivers exceptional balance between the honeyed house-style of the GlenAllachie spirit and the luxurious complexities of premium wines from France and Italy. It truly is a match made in heaven.
Our 2012 Vintage Cuvée Wine Cask Finish is available now from specialist retailers globally. You can find out more information in our press release here.