GLENALLACHIE RELEASES NEXT BATCH OF ACCLAIMED 10-YEAR-OLD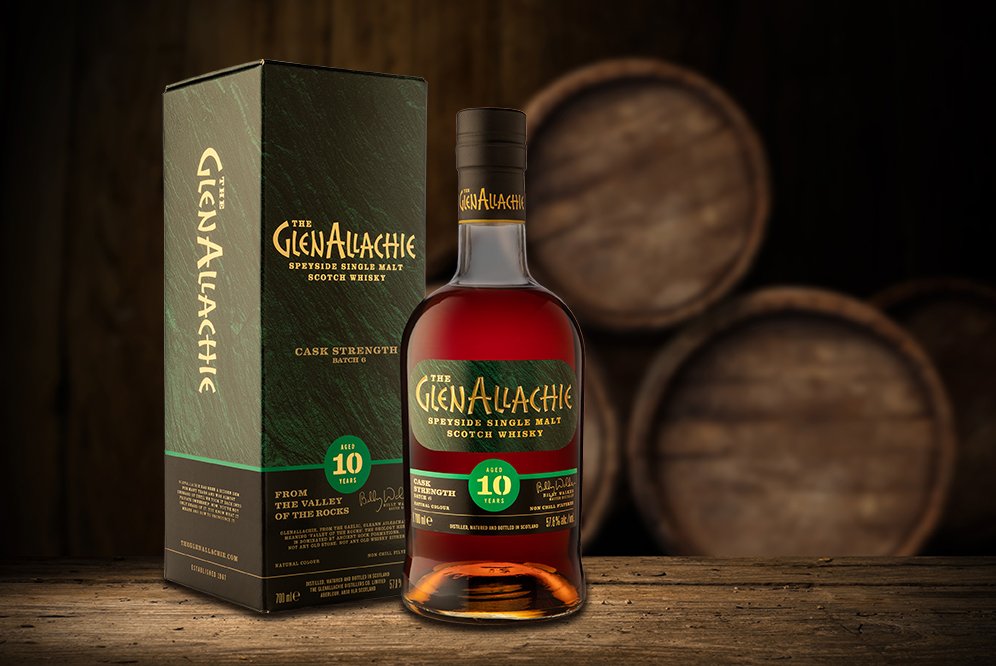 Batch 6 of the Speyside distillery's renowned 10-year-old Cask Strength bottling joins core range
The GlenAllachie Distillery today launches a sixth batch of its coveted Cask Strength 10-year-old single malt. The release follows in the footsteps of acclaimed previous batches, most notably the fourth instalment which scooped the ultimate accolade of World's Best Single Malt at the World Whiskies Awards 2021.
Batch 6 (UK RRSP £60), which is limited to just 6,500 cases worldwide, is a combination of Pedro Ximénez and Oloroso sherry puncheons, Rioja barriques and virgin oak casks, all personally selected and blended by whisky industry veteran, Billy Walker.
Each instalment of the decade-old expression emphasises Walker's distinguished expertise in wood management, using only the finest quality casks expertly sourced from across the globe. A recently appointed member of Whisky Magazine's prestigious Hall of Fame, Walker holds widespread acclaim within the industry for his hands-on approach and innovative maturation philosophy.
Presented at 57.8% ABV, without added colouring or chill filtration, the bold Cask Strength spirit is overflowing with dark chocolate fondant, tangy orange, heather honey and warm frangipane tart.
Commenting on this latest batch release, Walker revealed:
"When we acquired The GlenAllachie Distillery, we knew where we wanted to take the personality to the spirit. Concocting each batch of our 10-year-old really takes me back to that initial mission. I truly believe we are achieving what we set out to establish; a rich, bold, predominantly sherried spirit with interesting twists introduced by the wood.
"The delicious whisky we bottle as our 10-year-old Cask Strength really is testament to our wonderful team and the excellent wood we source. Like all previous batches, I know this batch won't disappoint!"
Prior to this release, the latest addition to The GlenAllachie's core range was the 30-year-old Cask Strength Batch 1, unveiled in May 2021, with hotly anticipated annual batch releases in the pipeline.
The GlenAllachie 10-year-old Cask Strength Batch 6 is available from specialist retailers globally, with a UK RRSP of £60.
TASTING NOTES:
The GlenAllachie 10-year-old Cask Strength Batch 6 – 57.8% ABV
Colour: Rich Mahogany.
Nose: Lashings of heather honey, dark chocolate and mocha, with almonds, cinnamon and orange peel.
Taste: Waves of dark chocolate, treacle, mocha, heather honey and almonds, fused with cinnamon, marmalade and grapefruit.