GLENALLACHIE DISTILLERY'S VISITOR CENTRE UNDERGOES SIGNIFICANT UPGRADE
Scotch whisky distillery The GlenAllachie today reveals major upgrades to its visitor centre as it gears up for the high season.
Winner of Visitor Attraction of the Year (Icons of Whisky Scotland, 2022), the site opened to the public for the very first time in April 2019 with a retail shop, small tasting room and limited tour programme.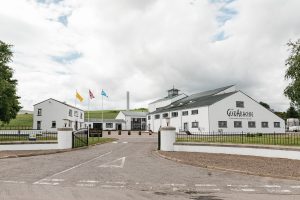 Having amassed over 225 5-star reviews across Trip Advisor and Google since then, and achieving a coveted Travellers' Choice award last year, visitors can now enjoy a brand-new, state-of-the-art whisky bar and tasting lounge.
Independently owned by legendary Scotch whisky maker Billy Walker, the distillery is located near Aberlour in the world-renowned Speyside region and boasts a full production area as well as 16 on-site warehouses.
The £600,000 investment sees a former engineering workshop be transformed to house a whisky bar; tasting lounge; extra toilets, including disabled facilities; and substantial outdoor seating space with incredible uninterrupted views of Ben Rinnes.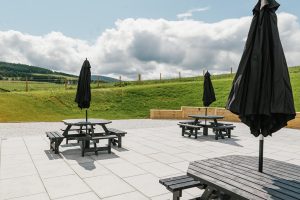 The whisky bar will offer a range of The GlenAllachie Distillers Company's whiskies and rums, offered in single measures or as a flight, as well as mixers and locally made soft drink options.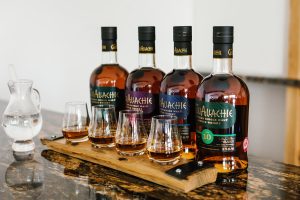 As part of the distillery's sustainability efforts, the new space will be heated using excess heat energy from the stillhouse: the room where distilling takes place. Electric vehicle charging points have also been installed for visitor use.
Along with the expansion, The GlenAllachie's Visitor Centre team has doubled over the last 12 months to cater for accelerating demand and footfall since recovering from the Covid-19 pandemic.
The company appointed Tracy Sellar as Visitor Centre Manager in 2022 to oversee its upgrading and upscaling, as well as the ongoing strategic running of The GlenAllachie's brand home.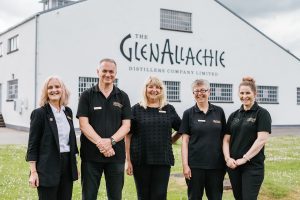 The extended tour offering now consists of three experiences:
The GlenAllachie Experience (1 hour, £25 per person) – a journey through the production process ending at the tasting room to enjoy four whiskies.
The Premium Experience (1 hour 15 minutes, £35 per person) – a tour of the production area, including a detailed discussion of our innovative cask management policy, followed by a tutored tasting of four premium whiskies.
The Connoisseurs Tour (2 hours, £60 per person) – running every Thursday afternoon, the experience is aimed at 'whisky geeks' who want an in-depth tour, including a warehouse visit, before enjoying a tasting of five of our finest drams.
A maximum of ten people are welcome on each tour to retain The GlenAllachie's admired personal approach, best reflecting its brand values.
The distillery plans to further expand its visitor experience offering once the whisky bar is fully up and running.
Commenting on the expansion, Sellar shares:
"We're thrilled to unveil our expanded Visitor Centre at The GlenAllachie Distillery after months of planning and preparation. As a team, we identified a gap in our offering: the option to enjoy a dram or flight without the need to join a tour.
"The new whisky bar, between the indoor and outdoor space, allows for an impressive capacity of 100 people at any one time. As we continue to expand as a visitor attraction, we look forward to a busy summer season with more experiences to offer our guests."
The distillery shop offers a number of bottlings exclusively available to its visitors:
Hand-filled 17-year-old Sherry Butt #901048 Single Cask Single Malt – £218
Hand-filled 10-year-old Recioto Della Valpolicella Barrique #804071 Single Cask Single Malt – £101
Distillery Exclusive 13-year-old Oloroso Matured Single Malt – £75
The GlenAllachie is hosting a launch event for the whisky bar and tasting lounge on Thursday 13th July 2023 from 17:30 – 19:30, open to all, which will showcase the new space, with drams and nibbles on offer.
The GlenAllachie Visitor Centre is currently open every day from 10:00-17:00 for the summer season (April – October). Tours can be booked through their website, while the new whisky bar operates on a walk-in basis.