Fantastic 50th Award for the GlenAllachie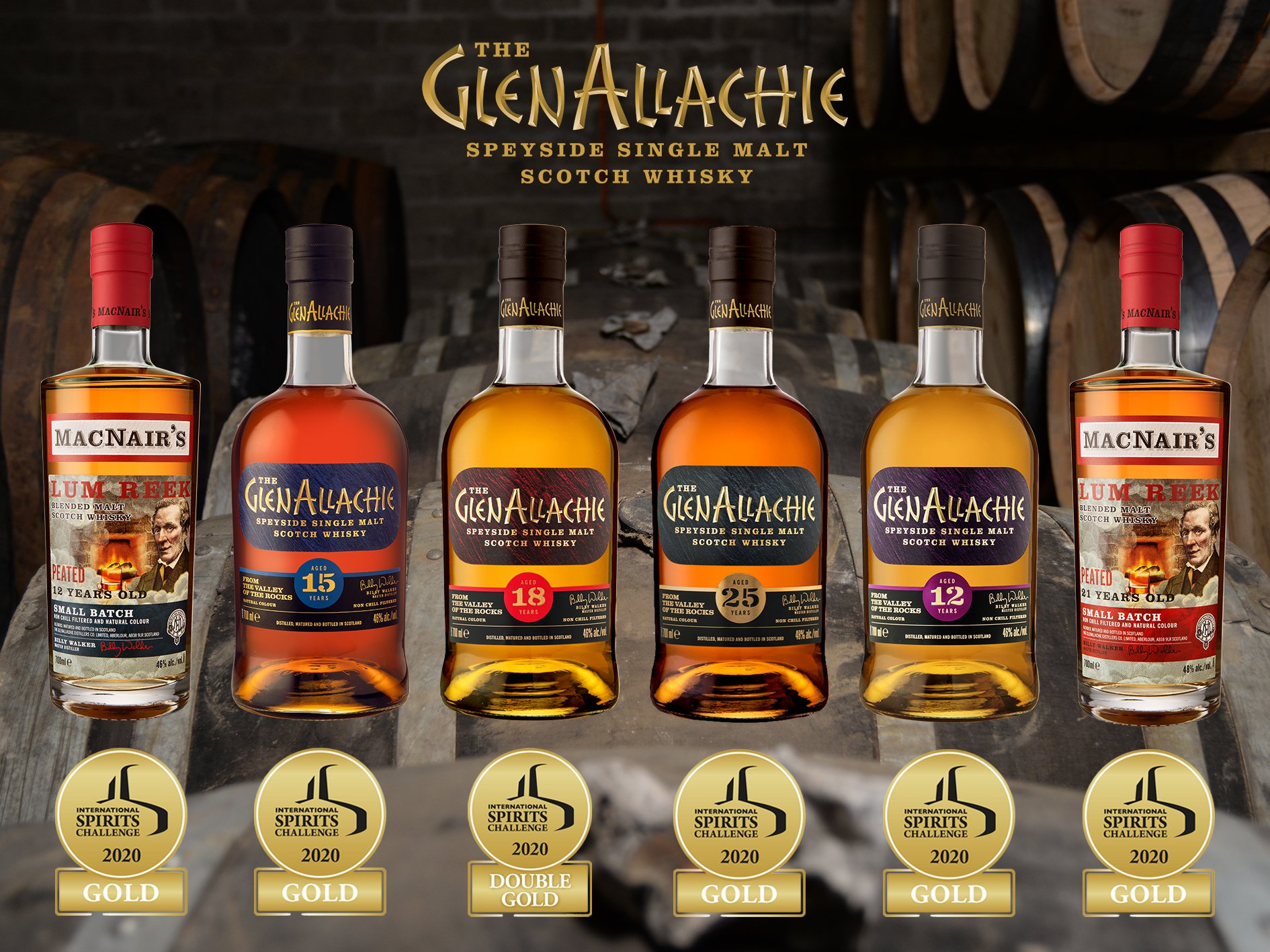 We are delighted to have won our 50th award in only 3 years with news of a prestigious Double Gold and five Golds at this year's International Spirits Challenge (ISC).
The GlenAllachie Speyside Single Malt Scotch Whisky 18 year old was awarded a Double Gold Tasting Award in the Scotch Whisky category. The Double Gold medal was introduced by the ISC last year to highlight exceptional spirits across the ISC Tasting Award categories.
The 18 year old, which has rich notes of dark cherries, spices and subtle hints of dark chocolate, has previously won several awards, including a Double Gold at the San Francisco World Spirits Competition and a Gold at the Scottish Whisky Awards in 2019.
Two of the five Golds were awarded to the 12 year old and 21 year old of the MacNair's Lum Reek Blended Malt Scotch Whisky range. The Golds come just a few months after MacNair's Lum Reek 21 year old was awarded the World's Best Blended Malt at the World Whiskies Awards.
The three other Golds went to the 12, 15 and 25 year old of The GlenAllachie Speyside Single Malt Scotch Whisky range.
Now in its 25th year, the ISC promote outstanding quality spirits from across the globe. The competition receives more than 1,700 entries from nearly 70 countries.
The GlenAllachie Distillers Company has now won 50 awards since we purchased the distillery in October 2017. Earlier this year, Billy Walker won the prestigious Icons of Whisky Master Distiller/Blender of the Year Award, while in 2019, The GlenAllachie Distillery was voted Scottish Distillery of the Year at the inaugural Scottish Whisky Awards.
Commenting on the latest award wins, Walker said: "Winning any kind of award is a proud moment, but to be awarded a Double Gold and five Golds at the ISC is fantastic news. Not only that, this takes us to 50 awards since acquiring the distillery back in 2017.
"Our core range of single malts is very close to my heart and I'm particularly proud of the 18 year old which has won the recognition of so many whisky enthusiasts and judges around the world. It doesn't seem that long ago since we started this new chapter in the life of The GlenAllachie Distillery, so it's been incredibly rewarding to see our spirit being recognised consistently at awards events like this."
Previous
14th September 2020